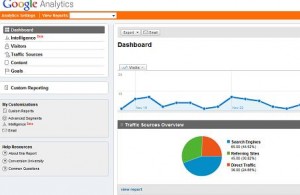 There are a number of free tools for measuring visits to your website, blog, Facebook Page and Twitter account. When you start a blog or build a new website, analytics might seem like a project for another day. But, actually, measurement is something you should have in place from the very beginning.
Google Analytics is an industry web measurement leader with an intuitive interface and a wealth of information. You don't have to be a web analytics expert to  understand the basic numbers that it provides. On the other hand, it offers layers and layers of more detailed information for those who want to dig deeper.
Facebook Insights is a free, built-in tool that measures traffic on your Facebook Page. When you reach 30+ fans, you will automatically start receiving a weekly Facebook Insights e-mail report. It will show your number of monthly active users and the number of new wall posts, comments and visits over the past week. More information, including the demographics of your visitors, is available via the administrative section of your Facebook Page.
Twitter Analytics shows you which tweets are most successful, which tweets caused people to unfollow you and who the most influential users are that reply and retweet your messages.
It's important to track how much of what you say on the web is being heard by people you want to reach. KD Web Strategies will guide you through your web analytics options and explain which numbers are most important.